VOSKER V100 4G Wireless Outdoor Security Camera
Works without Wi-Fi, thanks to 4G transmission technology

Monitoring of construction site, farm, hut or other remote places

Day and night photos with user-defined notifications in the VOSKER app

Pre-activated SIM card, SD card and holder included

Photos & videos are also stored on the SD card

Weatherproof and robust design (IP65)

Night vision and automatic motion detection

Operation with 8x R6 (AA), V-LIT-B battery, or 12V battery
Up to 100 photos/month free of charge
2 years manufacturer warranty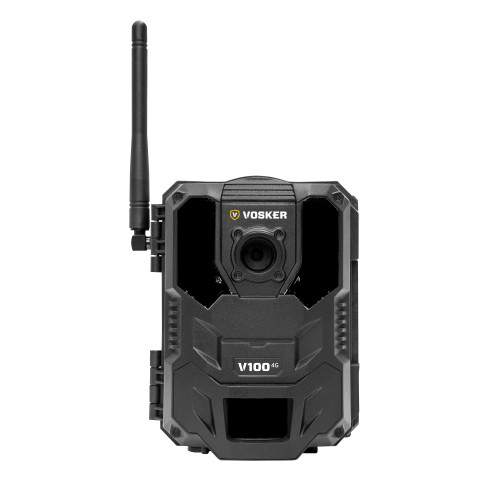 4G transmission technology – Ideal for construction site, farm, cottage, holiday home, rental property, parking lot or marina. Monitor everything, everywhere! Thanks to 4G transmission, you don't need Wi-Fi to transfer photos to your phone and receive alerts. When the camera is set to VIDEO mode, it records video only on the SD card. Make sure to enable the "Additional Image" option in the VOSKER app so that the camera can send a photo to your phone for each video recorded.
Quick Activation & Setup – Each VOSKER camera includes a pre-activated SIM card, SD card and cradle Ready to use in minutes, enjoy an unlimited number of photos for the first 30 days.
VOSKER APP – With the user-friendly mobile iOS and Android app, you can view day and night photos and manage your cameras on your mobile device from anywhere, anytime. You will receive custom notifications on your phone when activity is detected.
AI image recognition – With VOSKER SENSE you have the possibility to sort your images by people and/or vehicles. You only want to be notified when the camera has spotted strangers on your property? No problem, SENSE makes it possible!
Works anywhere, day or night – VOSKER cameras feature low data consumption and low power consumption for maximum uptime. The fully weatherproof (IP65) and robust design is suitable for any situation where wireless surveillance is required. This is the perfect security camera for all outdoor conditions.
Resolution
File format
Time lapse
Multi-image
Information on photo
Recording modes
Capture modes
Infrared Options
Optical field of view


Full HD 1920×1080 on SD card and 600×338 in the app
JPG
Adjustable pre-set intervals
Up to 2 photos per capture
Date, Time & Temperature (°C/°F)
Photo, video, time lapse
Colour recordings at the day, black/white recordings at night
Blur Reduction, Boost or Optimal
43,6°

Resolution
File format
Video length
Erfassungsmodi
Sound recording


1080p, 10fps
AVI
10, 30, 60 or 90 seconds
Colour recordings at the day, black/white recordings at night
no

Storage capacity
Power supply
12V connection


External: up to 32GB SD cards (8GB included)
Operation with 8x R6 (AA), V-LIT-B battery, or 12V battery
yes


Type of sensor
Detection angle
Detection range
Delay between capture
Triggering speed

PIR
50°
up to 24 meters
10s, 1 min, 3 min, 5 min, 10 min, 15 min or 30 min
0,3 seconds

Number of LEDs
Type
Flash range


42
Super Low Glow LED
up to 27 meters

SIM-Card
Transmission technology
Receiving images
Transfer frequency
GPS localization


included in delivery
4G
Handy: with VOSKER-App; PC: with Webapp
1x/day; 2x/day; 6x/day; 12x/day or each acquisition
no

Schedule
Detection sensitivity
Time format
Dimensions (LxWxH)


7 days
low, medium, high
12H / 24H
11,2cm x 8,4cm x 13,2cm